Alchemical Retreat: Building Your Alchemical Cauldron

The path of the Alchemist is a gentle path yet can be sometimes fierce with the quest for wisdom, experience, peace, love…and more!
Build Your Alchemical Cauldron – your foundation for Alchemical change
Five Element Rapport and Intimacy Exercises – creating deeper levels of connection
Flex Your Heart Muscles – opening and accessing the void of your heart
Begin realizing and living your full potential
As Alchemy Practitioners, we must first personally experience Alchemy before we can help others along the path. It is so helpful and inspiring to embark on your own Alchemy path and self cultivation before you begin treating others.
This is a transformational opportunity to practice and embrace a personal self-cultivation routine with guidance, open-heartedness, mutual appreciation, like-mindedness, support and with an amazing group of healers from around the world! 
We feel, Alchemy requires self-cultivation that enables you to undergo deep and vulnerable transformation. Together we can motivate, grow, and influence each other on our own separate but intertwined Alchemical journeys.
Leta Herman and Jaye McElroy bring you this Alchemy retreat from the perspective of Alchemical Chinese Medicine Healing. As we delve into the Daoist Meditation and Chinese Medicine philosophies of human energetics and priorities, we can come to a better understanding our own authenticity.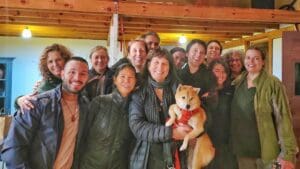 2022 Master Alchemists Retreat
Alchemy is the path less traveled...
If you're attracted to Alchemy and to the ways it can transform your life, you must ultimately walk it alone. But we like to say you can have friends along the way, who will share the path with you. Many Alchemists retreated to the mountains in the old days, to practice in small groups. This is a tradition of living life differently than people do in mainstream modern culture. The focus is on self-cultivation. We've been practicing Alchemy for many years now. We are also lucky to have found and built a community of 
others who want to practice with us.
Building Your Cauldron - October Retreat 2023
Location: Northampton, MA
EARLY BIRD PRICING (Until 9/1/23):
Retreat cost: $1199
Early Bird Pricing: $999 (until 9/1/23)
Deposit: to hold your spot: $250 non-refundable deposit (secure your spot now, remainder due by 9/1/23)
Payment Plan: Beginning in June – pay $250 Deposit, then pay $249.75 for 4 months
Room Deposit: If you need lodging, please check with us before paying the lodging deposit. Thanks!
Treatment Fee: If your Ghost Points or Heart Pains treatment is not included in your MAAP program, there is an additional fee for the treatment.
FOOD OPTIONS:
Snacks will be provided during the week. There will be options for eating lunches and dinner together as a group.
Accommodations are not included in the retreat fee.  The retreat location is near the center of town in Northampton at the Alchemy Healing Center.  If you would like to share a cabin with others, we have several spaces available. This is rural, but comfortable. We also have several AirBnB suggestions that are close to the clinic. Please note: this is a very busy weekend in the area, PLEASE book ahead! 
There are a very limited number of treatments / sessions available during this week with Leta & Jaye. These will be chosen as a whole based on what is best suited for the group as a learning experience(s). There may be additional slots available before the event starts, so please, if you are looking to get a treatment for yourself (or for a partner/spouse/client), email us as soon as you know that you are attending. Please Note: We are full and have a waiting list. If you would like to request a treatment, please contact us ASAP. 
Please Note: If you are in the MAAP program, you must meet the minimum requirements before you can do your supervised treatment(s). 
Your deposit and room deposit is non-refundable after 9/1/2023. We offer a 50% refund for cancellations completed 30 days or more before class. Cancellations made from 29 to 15 days in advance will be offered a 25% refund. We are unable to offer refunds for cancellations made less than 15 days in advance.

Alchemy Learning Center
17 New South Street, #108
Northampton, MA 01060
NCCAOM Provider # 170388
California Acupuncture Board Provider # 1735
NCBTMB Provider #102200